Repl. 4 "Antennen Stabe " Tornfu.g, Tornfu.d2 and Torn fu b1

Torbfu .g 30,4cm long and 12mm outer Ø.10mm inside Ø
Torn Fu b1 Antennas




Torn.Fu. b1 antenna tubes and top cross.
Dimension: 425mm long and 20mm outer Ø
Torn Fu d2 Antennas
Dimension: 325mm long and 12mm outer Ø

B1 antenna base
Repl. Antennas for Feldfu.b,b1 and c.
Flexible blade-antenna 72.5cm long for Feldfu.b/b1 "Dark Red" connector.Feldfu.c 66cm long "Dark green" connector.All pure solid brass,and steel blade-antenna.
Repl: 1/4 wave antenna model 1943 flexible-blade antenna.
The antenna to b and b1 freq 90-110Mhz near a 1/4 wave, and 136-166Mhz to c models.The antenna for b models are red and c model green on the connector head.The lenght of the antenna for feldfu.b are ca 72,5cm.and for c model ca 66cm.The distances you get from the radio are depending on correct antenna lenght.(It is critical), as the power is very low.The connector is made of pure solid brass as original.
The antenna for feldfu.c is similar but cut to 66cm long, and connector is dark green,as orginal.On the lower part, it is a eagle stamp.4 types of antennas could be ordered.It is smal series going on.Every part is manmade.
1 on stock. Red ant for Feldfu.b. / b1. (90-110Mhz) 72,5cm. Euro 85,00
1 on stock Dark green ant for Feldfu.c. (130-166Mhz) 66cm. Euro 85,00
1 on stock white for Feldfu. f. (28 - 33Mhz) 120cm Euro115,00
2 on stock blue for Feldfu.h. (23 - 28Mhz) 150cm Euro115,00
Wehrmacht Verband Packung",orginal sealed.WWII
Verbandpackung. orginal sealed.

price Euro: each 15,00
Torch (Flashlight).Type Pertrix
Torch (German Flashlight Pertrix)

Type 198 M.price Euro: each 20,00
Norwegian orginal Military belt.
Norwegian Military belts.110cm long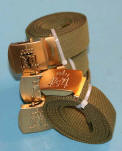 Price Euro:
25.00 Euro
Repl Leather hooks to Feldfu.b/c/f and g (Tragehaken)
Leather hooks for Feldfu series Manpack radios.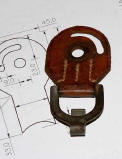 7 on stock.


Price: 2 pieces Left/Right. Euro: 40
Repl. Antenna bottom connector Feldfu.b/c Manpack radio "Tornister gerate"
Antenna foot


Price: Euro: 125.00
1 on stock.
Repl Screw Feldfu front (2x) 5mm.and Torn Fu.g (long type) 6mm
Screws for front hold.


Price each: Euro: 20.00
0 On stock Production 8
Repl Power Connector Feldfu b (The box connector)
Power connector to all Feldfu units


Price each: Euro 80.00
0 On stock. On order
Rest-belt Feldfu."Ruckenstutze"
3 on stock
Repl Remote-cable for Feldfu controllbox.
Control cable from radio to controllhead .


Euro: 150.00
0 on stock. (Back december ) productions
Repl Feldfu b/c/f/g/h front and end covers
1 front cover Euro: 165.00
4 fronts on stock. . 0 Back.
Repl Controllbox for Feld Fu.b-c-f and h

Controllbox Feld Fu b series Euro: 160.00
2 on stock
Repl Controllbox for Torn Fu.g

Controllbox Torn Fu.g Euro: 170.00
0 on stock productions on order
Repl Dorette KIfuSpr.D Battery box.
0 on stock (januar) Productions aug.
Repl. Torn Fu.g "Antennenspule g" Ant base box Tornfu.g
The antenna coil,the foot part of the antenna to Torn Fu g, is a very importent part of the radio.Without this, the radio become absolute unusable.The antenna is a complex HI Q adjustmentscoil working together with a "paitchantenna" flexible 1,5m antenna.
Euro: 230.00. Euro: 140.00
4 on stock 1 on stock
Repl. Antenna "Dorette" steelblade 160cm or (120cm long. )
Euro 135.00
0 on stock (january) Production Only 120cm
Repl. "Glimm-rohre" all Feldfu radioes.
Controll Glimm-tube for voltage controll of the Feldfu.a/b/c/f/h radios. Normally the old tube leaking air into the tube pin,and end working.
0 on stock productions 5
The book "Deutcher Wehrmachtgerate Bildkatalog"


112 pages. 100 pictures front and backside.Only 1 on stock
Euro: 95.00
Dummy Feldfu.b or (c/f/h). Incl antenna, "Ruckenstutze" and 2 leather hooks
Dummy Feldfu boxes for reenactors and collectors. The front is not operational. It is 2 metall bridges inside with a lot of holes for after mount of modern VHF portable radioes. The Mic and earphone connectors on right side of the front has working connectors. Delivered with soldered 30cm wire. All measurments as the original, 29cm high x 10 cm x 33cm deep.
Contact me on Mail.
Smal Hagenuk Carbon microphone element ca 400ohm NEW!



Hagenuk- Carbon mikrophone. Excelent for change of old German
microphones. Outer Diameter: 34mm inner diam: 29mm, and 15mm thick. Euro 25.00 + shipping.
Ask me: E-Mail
This site was last updated 07/15/18 Home