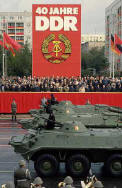 The Soviet R-108D is a VHF FM transceiver developed in the 19

48

. It is one in a family of three identical

models, differing only in frequency band. Primarily intended as a manpack or vehicle mounted, it was used within the Division at all levels down to Company HQ by Infantry, Artillery and AA Artillery. They were ultimately replaced by the R-105M to R-109M sets.
Frequency range R-109D 21.5-28.5MHz, R-108D 28-36.5MHz and R-105D 36-46.1MHz.
Modulation FM R/T only.
Powered by 2.4V NiCads fitted in back of case

.Type 2NK24 pack

RF output approximately 1.2W

. Receiver 1.2uV/10db, No squelch.Auto receiver tracking +-10Kz

2.4V filament battery valves are used.
High tension is obtained from a vibrator unit. 1948-1958 mechanical type,later a transistor type.
All the sets in this series are of tube type design, with the (M)only presence of transistors being in the radio's internal inverter power supply. Their cabinets (M models) are constructed of a heavy bakelite type material, sealed with paraffin to prevent water & dust seepage. A Removable cover allows access to the sets controls, which are placed on one side. The radio is fully operational with this cover in place & it does provide exceptional protection for the controls, as well as further enhancement of the radios watertight integrity. The opposite side of the radio has an identical cover to house it's rechargeable Nicad batteries.R-105D cabinets are made of metal and weight about 21kg.
Accessories are available to allow the set to perform various tasks. Without exception they exhibit the utmost in simplicity, & crude utilitarian design. Carrying equipment consist of a very thin plastic covered cushion that is placed on the back of the radio, & simple canvas straps. A long sectional antenna is provided to increase the sets range while in it's backpack configuration, it does not incorporate a spring to minimise damage. This same antenna is combined with a "C" clamp type mount for use as a vehicular antenna. A metal frame used to secure the radio in it's transit case, can also double as a vehicular mount. It's combination headset/Mic is very similar to that used with the WW-II U.S. Navy TBY. A handset could also be used that is virtually a copy of a WW-II German type, & looks much like those used on U.S. EE-8 field telephones. Other accessories include a long wire antenna, & a 50 watt mobile amplifier is also known to have been built, both intended to increase the basic radio's range, the later has not been encountered as a Desert Storm Trophy, but were recovered in the mid east wars of earlier years.Using the set in the field is a pleassure.Exelent antenna adjustments to the transmitter let the power reach the antenna with full power.The receivers audio is clean and very well done.It missing volume adjustment,but you regulate the volume with the headphone,back and from the ears.The sound are loudy,you hear all with the phone on the ground on a silent place.The frequence stability exelent.Radio R-108D working well on amateur 10m band on FM.
R-105D have a aluminium alloy chassis,and covers in aluminium.The unit could stay underwater for 3 minutes at 0.5 meter down.The constructions is made for temperatures between -40 to +50 degrees.From outside and front you have the radio unit and back the battery,garntyr compartment.The cabinet is made of metal and painted with military green (Telegreen) color.On top, it is possible to connect the mic/headset like the front connector.Going inside,the unit is splitet in transmitter unit,receiver and power units.The front could be moved from the alloy-chassis,as well the rest of the TX/RX units.All frequency parts as coils have ceramic base matrials with "damped" silver turns.The oscillator unit is hermetically closed,and this giving a very high frequency stability.On the front it is a switch in 4 steps,covering the actually radio frequency band.In the center of this it is a butterfly condensator for correct adjustment of the transmitter/receiver to antenna.Therfore it is possible to connect anything to the antenna output.Normally kulikow (1.5m) or traveling-wave antenna (40m) longwire with earth resistor.On the back of chassis it is a normal vibrator power making from 2.4vdc battery the voltage, ca140v.Heathing 2.4v. In 1946 to 1950 the unit work with mechanical vibrators,but later it was constructed a transitor unit,with same case as the old mechanical type.The receiver have 2 HF amplifiers,1mixer,1 (hermetically) oscillator (TX/RX) 3 MF amplifiers and 1 Audioamplifier.As told, the oscillator working together with the transmitter and receiver.The transmitter is FM modulated and the unit work about 12 hours with 5% transmitting with orginally batterypack,NIFE or NICAD.This type of battery,like the German WWII,working as new,60 years later??.Later in the 60īs a new battery was constructed in plastic,but inside the same formula.The receiver have a automatic frequency adjustment,if the transmitter from the other radio stay "OFF" frequency,the receiver tracking on to the frequeny without readjust your radio.This AFC could be turn on and off.This functions work down to ca 1uV and +/-8Khz of frequency.A smart facility.After many hours with this radios in the field,I learn, this radios are simple unbreakable,and will work any time under any conditions.(Dauerbetrieb).
The VHF RF amplifier UM complete with HT inverter R-104M (left). The original supplied dummy load (made up from four 200 Ohm resistors in parallel) is in position on the aerial base on top of the RF amplifier.
The HF amplifiers UM are intended for the increasing the power of the radios of small output R 105D, R 108 D, R 109 D and R-114. Other radios of small output can also be amplifieded. You put UM on top of the radio. It consists of two single sets, the amplifier and the power supply. It is not so mutch to write about it,it giving the radio the power to reach out loud and clear.
Working,front it is 3 knops.1 band,2 anode tune and 3 antenna adjustment.As other Russian/DDR equipment,all is well done.Chassis made of aluminium alloy,in chambers for every HF parts.Variable Condensators made of ceramic with bal-bearing and ceramics coils.Power working with 2 transistors in switching mode type.
Power amplifier for R-105D series UM-1
Frequency range:

20...

46.1

MHz, devided into three ranges.
Technical data:
Mass + weights:

Amplifier L/b/h: 185 x 120 x 170 mm; 3.3 kg.

Transmitting power

40 Watts.

End tube GU-50

Rated voltage

11-13 V.

Power input

10 A

Batterys: 2 5NKN45